Throughout the year, Cape Cod boasts an array of annual events to showcase the historical significance of our area. Many of these celebrations highlight the close ties of our coastal communities to the sea. To commemorate the seaside lifestyle, the Wellfleet Shellfish Promotion and Tasting, Inc. (SPAT) created the Wellfleet Oyster Festival. If you are visiting us in the middle of October, attend this ultimate seafood experience for a tasty addition to your getaway!
Cape Cod is one of the most wonderful destinations in the United States for our stunning beaches, historic sites, and exciting events like the Wellfleet Oyster Festival.
Wellfleet Oyster Festival and Everything You Need to Know
Celebrate our seafaring culture at the Wellfleet Oyster Festival, which is also known as the Wellfleet Oysterfest to locals. Read over our insights to find out insider information about this culinary showcase!
Where Is the Fest
If you wish to enjoy the festivities, drive to the heart of this quaint town and walk down Main Street in Wellfleet, MA, 02667. You'll take US 6 E from South Yarmouth to the Wellfleet Oyster Festival. Perhaps one of the most popular events on Cape Cod, we urge you to leave in the morning to get the best parking space, purchase your tickets, and beat the crowds!
When It All Began
The Wellfleet SPAT originated in 2002 to aid the shellfishing and other aquatic industries on "the Cape." In coordination with their mission, this nonprofit organization created the Wellfleet Oyster Festival. Since its first year, local businesses, volunteers, and generous patrons sustained this seaside celebration through financial and moral support. In fact, this oyster fest near Boston remains a favorite among locals and visitors!
What to Indulge In
At the Wellfleet Oyster Festival, you'll be surrounded by the tantalizing smells of excellently crafted cuisine. While you are looking for the perfect delight, we urge you to try the delicious "Wellfleet Oysters," as well as other classic seafood dishes, including clams and chowders. Each of these delicacies boasts bold flavors, rich tastes, and classic New England flair and harvested by local anglers. To complement your meal, order a craft beer or savory wine from Cape Cod businesses!
If you want to see how this shellfish is prepared, attend one of the many cooking demonstrations. After watching these culinary showcases, you may want to try some. If you do, remember to toss your shells in the designated recycling areas!
How to Experience
In addition to the excellently seasoned cuisine, the Wellfleet Oyster Festival schedule features many fun activities. Each of these fascinating spectacles showcases a different facet of this coastal community. Here is a taste of what happens at the festival.
SPAT Information Booth
Family Fun Area
Environmental presentations
Spelling bee
Film screenings
Live music
Oyster Shuck-Off
5k Road Race
Whichever way you decide to spend your day, you're sure to have a wonderful time at the Wellfleet Oyster Festival! The excitement kicks off each year during the weekend after Columbus Day!
Experience Cape Cod Charm at The Captain Farris House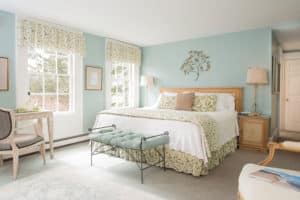 When you book your getaway to "the Cape," browse our stunning accommodations at The Captain Farris House and reserve the ideal retreat for you and your beloved. Each of our wonderful guest rooms features an abundance of natural light, beautiful antiques, and are some of the best places to see a Cape Cod sunset. You'll also be close to a myriad of Cape Cod attractions and annual events like the Wellfleet Oyster Festival. Before you embark on your daily adventures, join us for our gourmet breakfast each morning in our elegant dining room.
Plan your coastal trip with The Captain Farris House this year!