If you're staying with us at the Captain Farris House in South Yarmouth for any length of time, taking a trip by ferry to one of the offshore islands is a magical way to spend a day. You have your choice of Martha's Vineyard or Nantucket, each uniquely different, but equally beautiful and worth a visit. Nantucket, however, is a bit easier to cover in a day due to its smaller size. Hop onboard a fast ferry with either Hy-Line Cruises or the Steamship Authority out of Hyannis Harbor, for a speedy one-hour cruise across Nantucket Sound to the docks in Nantucket Town. Here's the perfect day on Nantucket.
Nearly half the land is held in conservation, and you will not encounter a stoplight, shopping mall, or fast-food chain anywhere on the island. Instead, there are cobblestoned streets and brick walkways where locals stop to chat and everyone seems to know your name. It doesn't take long to feel at home here.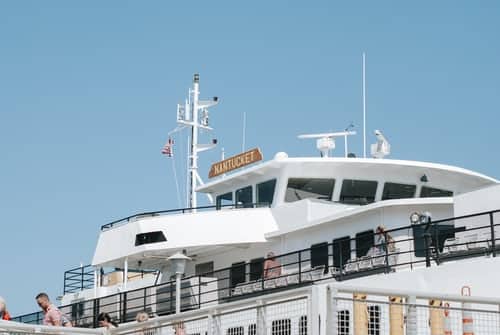 Two Ways to See Nantucket
Visitors seem of two minds upon landing at one of the wharfs that dot the harbor. Some will spend the day wandering the cobbled streets of town, visiting historic sites and hunting for souvenirs in the charming shops and boutiques. Others head straight out of town to one of the many lovely beaches, or through the moors to Siasconset and Sankaty Head Light. Whatever your idea of the perfect day on Nantucket is, we have a few suggestions that might help you maximize your visit.
Nantucket Minibuses
Often you will find a bevy of minibuses awaiting your arrival when you disembark the ferry. For a standard fee, you can take a delightful 90-minute circumnavigation of the "Gray Lady", Nantucket's nickname, in the comfort of a small passenger van. It's a great way to get an overview of the island in a short amount of time. Many of the tour guides are native islanders, and will regale you with humorous anecdotes about windmills, cranberry bogs, and nefarious whaling captains. If the tour vans are not at the dock, walk up to the visitor's center on Federal Street for more information and reservations.
Nantucket Whaling Museum

Once back in town be sure to check out the Whaling Museum on Broad Street, for an in-depth view of whaling artifacts. A 46-foot skeleton of a sperm whale soars above Gosnold Hall and a replica of the Hadwen and Barney Oil and Candle Factory are but a few of the magnificent relics of the storied whaling days on exhibit. Be sure to head up to the 6th floor observation deck for a spectacular view of the boat basin. And don't miss the impressive collection of scrimshaw and lightship baskets in the Gallery.
Stunning View from Nantucket's Bell Tower

If you're willing to climb 94 steps to the top of the bell tower of the First Congregational Church on Centre Street, you'll be rewarded with a phenomenal view of the town below and the yachts in the boat basin. On a clear day you can see for miles across Nantucket Sound. It's a remarkable sight for a small entrance fee. Plus, a good workout.
Nantucket's Charming Shops

Wander the streets of Nantucket Town, window shopping and pausing now and then to imagine what life must have been like during the island's heyday. Not much has changed. The cobble streets and storefronts retain the charm of yesteryear, while offering an eclectic array of merchandise. Stop into Murray's Toggery Shop for a pair of Nantucket Reds, Mitchell's Book Corner for a tome on Nantucket's history, and The Hub for a latte and Nantucket souvenirs.
Nantucket Cuisine

When it's time to eat, your choices are unlimited. Try The Brotherhood of Thieves on Broad Street near the Whaling Museum for a trip back in time at the whaling bar, or Cru Oyster Bar on Straight Wharf for cocktails and oysters with an ocean view. Languedoc Bistro, also on Broad Street, is perfect for casual dining based on classic French techniques.
Many say that Nantucket is a state of mind. Perhaps it's the light reflecting in a deep blue sea, the rustle of leaves against the cobblestones, or the wind that whips the sails in the boat basin that envelopes your soul in a dreamlike reverie. It haunts you when you leave and embraces you when you return, as you undoubtedly will after your first visit. To ensure a return trip, toss a penny as you round Brant Point on your return to the mainland as many visitors do.
Back at the Captain Farris House, we'll be waiting for you with some fresh baked goodies and a cup of tea – the perfect end to the perfect day on Nantucket.