Cape Cod has something for everyone to enjoy. You'll find a wonderful balance of nature, culture, history, and adventure around every corner in our scenic vacation destination. While you're staying with us at The Captain Farris House, stroll through our stunning gardens and historic home, relax in your luxurious accommodation, and of course spend some time shopping on Cape Cod. From specialty boutiques to eclectic stores to upscale boutiques, you're sure to find the perfect memorabilia to commemorate your trip.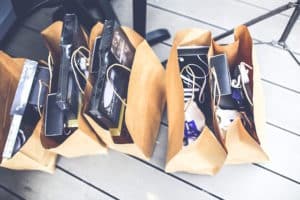 Once you've experienced shopping on Cape Cod, spend some time exploring what our stunning gem in Massachusetts has to offer.
Where to Go Shopping on Cape Cod
Whether you decide to window shop or purchase something special, here are our favorite places to go shopping on Cape Cod. Before you go, we recommend having cash on hand for a smoother transaction!
Antiques on Cape Cod
Some of the most fantastic shopping on Cape Cod destinations sell the beautifully restored antiques. These fabulous shops offer a selection of period pieces, charming trinkets, and hidden treasures that attract visitors each year to our communities. In fact, the Bass River area in South Yarmouth is the location of the stunning Antique Center of Cape Cod in Dennis, MA. When you browse this store's fantastic collection, you'll see handcrafted masterpieces, wonderful artwork, and high-quality furniture for sale.
Mashpee Commons Shops
In the nearby town of Mashpee, discover the pedestrian-friend Common Shops area. Explore the unique boutiques, each of an eclectic mix of contemporary and classic merchandise. From health shops to clothing stores to home furnishing places, you're sure to find something special to purchase on your getaway with The Captain Farris House. Once you've gone shopping, dine at one of the exceptional restaurants or watch the latest film!
Main Street of Chatham
The historic town of Chatham is not only known for its stunning lighthouse but also the variety of delightful shopping on Cape Cod. As you walk down the picturesque Main Street, window shop the many charming establishments. The variety of shops includes nautical merchandise, clothing for the family, sports memorabilia, novelty gifts, and artisan foods. Whatever occasion you're buying for, you're sure to find the perfect item to buy.
Main Street of Hyannis
Hyannis, MA, is known for its many historical sites pertaining to the late John F. Kennedy who vacationed there with his family. When you visit, this patriotic town does pay homage to one of the most beloved Presidents in American history but also provides wonderful shopping on Cape Cod. To follow the status quo for buying local, you'll find an assortment of locally owned and operated businesses, which are filled a variety of merchandise. Peruse the beautifully laid out displays of the clothing boutiques, jewelry shops, home good stores, and health & wellness establishments. You're sure to find the perfect item to buy to remember your time on "the Cape."
Relax Together at The Captain Farris House
After you've gone shopping on Cape Cod, bring your bags back to your charming room at our inviting bed and breakfast. The Captain Farris House offers the perfect retreat for you and your partner this year and offers a convenient location to start your daily adventures. Before you plan your vacation, browse our luxurious accommodations and reserve the ideal one for your romantic getaway in New England. Book your the best vacation yet with us at The Captain Farris House this year!