Nothing brings you closer to learning more about the local culture of a new vacation destination than delighting in the cuisine! As you search for the perfect places to indulge on your getaway, reserve your table at one of the many restaurants on Cape Cod. Each of these wonderful eateries showcases some of the best food in America with regionally inspired tastes and fresh flavors. Whether you wish to create the perfect date night or try a new culinary experience, you're sure to get your fill of the exceptional food!
Let us at The Captain Farris House assist you in creating a romantic getaway for you and your beloved this year.
Our Top Choices For Restaurants on Cape Cod
While you are exploring our Massachusetts gem, you'll need a place to recharge and refuel. Here are our recommendations for the best restaurants on Cape Cod, according to the type of fare!
American
Each of our American-style eateries prepares all meals with locally sourced produce, fresh ingredients, and seasoned-to-perfection meats. You'll be delighted by the inviting atmosphere, exceptional provisions, and lavish drink menus at our recommendations!
Whether you wish to enjoy food from a quaint cafe, lively pub, or eclectic dining establishment, you'll find the perfect meal to enjoy with your sweetheart!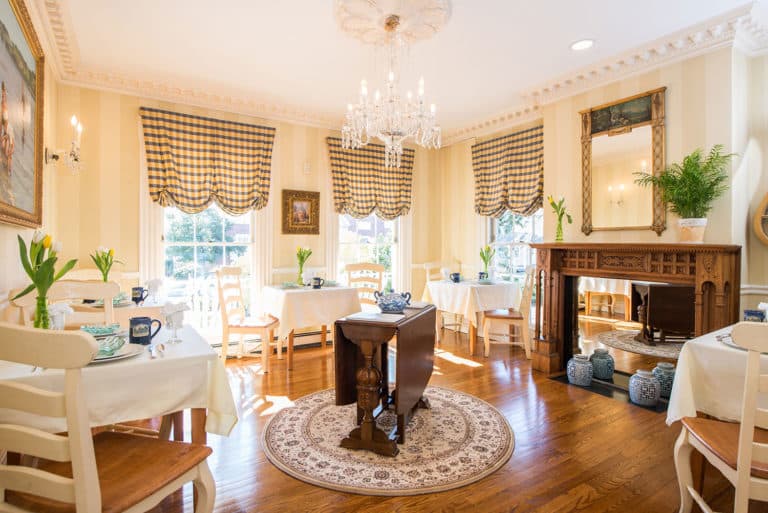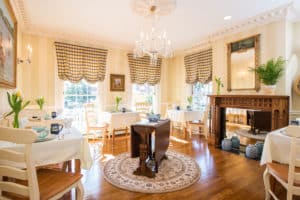 Breakfast
What's the best way to start your day? Dining with us for breakfast at The Captain Farris House. Our complimentary breakfast spread is served in our elegant dining room underneath our Waterford chandelier from 8:30 a.m. to 9:45 a.m. From savory small plates to hearty entrees, you'll find the perfect food to fuel your daily adventures!
Fine Dining
When you step into the fine dining restaurants on Cape Cod, you'll be delighted by the crisp tablecloths, inviting music, and posh table settings. Each of our recommendations offers either Italian or seafood menus, so you're sure to satisfy your culinary cravings at either one of them!
Indulge in the delightful courses of artfully prepared cuisine with a savory glass of wine or exquisite cocktail.
Italian
Feel as though you've been transported to the cobblestone streets of Italy with the delightful Italian flavors of Gerardi's Cafe. It's one of our guests' favorite restaurants on Cape Cod for the gorgeous selection of antipasti, salads, and main dishes. This wonderful eatery also accommodates specific palates and lifestyle diets, including gluten-free, vegetarian, and vegan!
Irish
Crafted from traditional recipes from the Emerald Isle, delight in the hearty portions at O'Shea's Olde Inne. This swanky yet casual pub exudes a welcoming atmosphere with the warm welcome from the owner himself and the soft glow of dimly lit candles. Also, you can hear the harmonious sounds of the fiddle, guitar, and mandolins, come together while you enjoy your wonderful provisions!
Seafood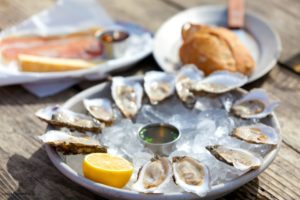 Perhaps some of the most sought-after restaurants on Cape Cod are the seafood dining establishments. Each of popular eateries offers a variety of freshly caught fish, harvested oysters, and other seasonal delights. Here are our recommendations for where to indulge!
Whether you enjoy your meal with seaside views or with the company of your partner, get your fill of our regionally inspired delicacies!
Tapas
This traditional Spanish meal promotes comradery and friendship with the sharing of food between one another. At MoonCussers Tavern, these sumptuous small plates showcase unique spices, exceptional flavors, and some traditional favorites of Cape Cod. What's the best way to complement these tantalizing tastes? With a glass of local wine, of course!
Plan Your Getaway With The Captain Farris House
Once you've completed your culinary tour of the many restaurants on Cape Cod, you'll need a comfortable place to stay for a good night's sleep. We invite you to browse our stunning collection of accommodations and reserve the ideal one for your trip to "the Cape." Each of our luxurious hideaways boasts an abundance of natural light, stunning antiques, and marvelous spa-like bathrooms. When you stay with us, the finest luxuries and relaxing amenities are waiting for you just beyond our front door. Book your next trip with us at The Captain Farris House this year!