Two beautiful islands sit off the southern coast of Cape Cod, beckoning visitors to their unique areas. Nantucket vs. Martha's Vineyard: Which one will you choose? Both are fantastic day trips during your stay at the Captain Farris House, so our guests often ask about the differences. Our response is that both are excellent destinations, but offer very different experiences. Many people are loyal to one over the other, visiting either Nantucket or Martha's Vineyard exclusively each year. We're here to sort through the facts and help you find your favorite!
Nantucket vs. Martha's Vineyard: Find Your Paradise
Before we get into the differences, let's start with what Nantucket and Martha's Vineyard have in common. You can reach both via a convenient ferry ride from the mainland, with departures just minutes away from our inn. Don't worry about renting or bringing a car, because you can easily get around by walking, biking, or using public transport.
While people may prefer one island's beaches over the other, you won't find any shortage of scenic shorelines at either one. Nantucket and Martha's Vineyard are also full of charming local businesses, without many chain restaurants or big-name shops. These "sister islands" are also both known for attracting artists, authors, and celebrities, so you can expect a delightful experience no matter which one you pick!
Nantucket
Nantucket rests 30 miles off the mainland, stretching for about 50 square miles. The smaller of the two, this island offers a quieter alternative to the crowds that Martha's Vineyard can attract. Spend your days exploring the bike paths, relaxing on the shore, and strolling through the cobblestone streets. The upscale shops and the Nantucket Whaling Museum are some of the biggest highlights of Nantucket. You can also rent a Jeep and pack a picnic for a romantic afternoon on the beach!
Martha's Vineyard
Martha's Vineyard, on the other hand, is about twice the size of Nantucket and features six unique towns. Since it encompasses a larger area, there's more to explore! You can easily get around via the convenient public transport shuttles or sign up for a bus tour and enjoy a guided tour of the area. Along the way, you'll see lighthouses, landmarks, and plenty of historic sites. Martha's Vineyard is also home to a slightly more casual vibe compared to the upscale atmosphere of Nantucket. Visit the Gay Head Lighthouse, the Aquinnah Cliffs, and the gingerbread cottages at Oak Bluffs while you're there!
Get the Best of Both Worlds at the Captain Farris House!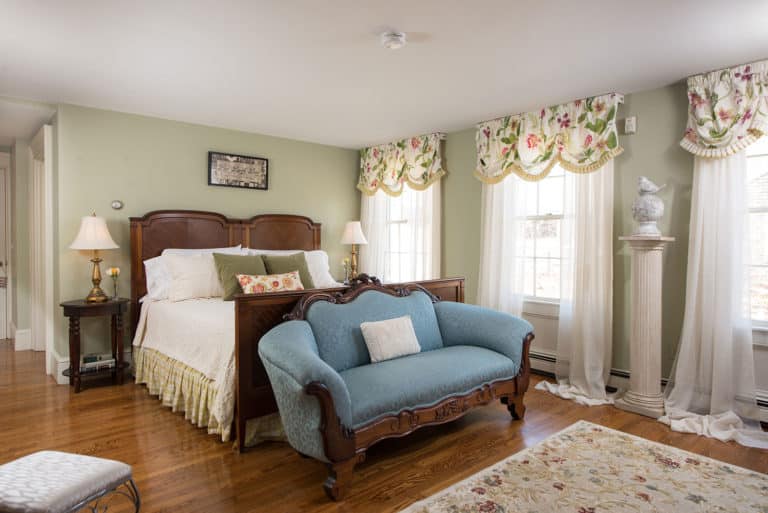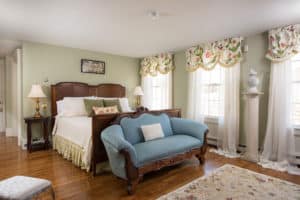 Have you picked a favorite, yet? You can stay at the Captain Farris House and enjoy them both! Our charming South Yarmouth inn is centrally located on Cape Cod, so you can wake up to a homemade breakfast and catch a ferry ride to either island. After your day trip adventures, return for some freshly baked treats and luxurious accommodations at our inn!
Elegance awaits in the Davis Room, where antique decor and mahogany accents fill the area. When you're not cozying up on the king-size bed, you can melt your worries away in the soothing whirlpool tub.
Reserve your favorite room or suite today! Just don't forget to enhance your visit with our wide variety of specials and packages!