One of the many perks of visiting Cape Cod is that the beloved island of Nantucket is just a ferry ride away. When you step off the boat and set foot on the island, you'll notice right away there's something special about this place. Filled with coastal charm and peaceful energy, a visit to Nantucket makes all your worries seem miles away. When you stay at the Captain Farris House, you can take a ferry to Nantucket in the morning, spend all day exploring, and then return to our bed and breakfast for a relaxing evening. See below to make the most of your day trip to Nantucket.
Why You Should Take a Day Trip to Nantucket
The lovely island of Nantucket sits 30 miles south of Cape Cod and encompasses just under 50 square miles. Here, you can let your stress fade away and focus on appreciating the natural beauty all around you. You may recognize Nantucket from various photographs and paintings, but upon arrival, you'll find there's much more to experience than meets the eye. Beyond the beautiful appearance of the island, there's a fascinating story and a unique atmosphere you can't find anywhere else.
The History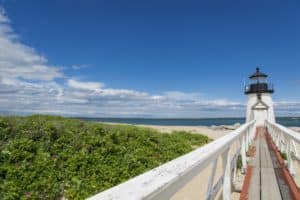 Today, Nantucket is a vacation destination on the top of many people's bucket lists, in part due to the rich history surrounding this idyllic island. Originally settled by the Wampanoag tribe of Native Americans, the name "Nantucket" resembles the Wampanoag term for "far away island." Later, the community served as a hub for the whaling industry. Early seafarers assigned it the nickname of "Little Grey Lady of the Sea" for the cool mist and fog that often sweeps over the coastline. During your visit, be sure to take note of the lighthouse dotted landscape and historical structures offering glimpses of the past.
The Experience
Looking at Nantucket in a brochure can't possibly do it justice. Pictures of the windswept beaches and cobblestone streets provide a simple introduction to the island. However, the atmosphere here is something you have to experience first-hand to understand. The island offers a sophisticated, yet laid-back environment for anyone who has the pleasure of visiting. All it takes is one day here to realize why National Geographic ranked Nantucket as the No. 1 Island in the World!
How to Get From Yarmouth to Nantucket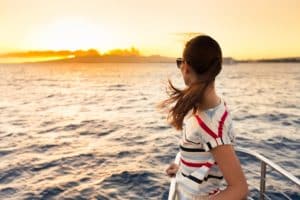 Are you ready to take the next step toward this island paradise? Getting there from the Captain Farris House is simple. In fact, the journey is a scenic adventure in itself! Step aboard one of these ferries to Nantucket and let the experience begin!
Steamship Authority
Steamship Authority offers daily ferry rides to Nantucket from Hyannis. You can choose between two options — the high-speed ferry or the traditional ferry. The high-speed option takes approximately one hour, and the traditional ferry takes just around two hours. Both are great options, offering plenty of seating, a small cafe, dining tables, and wifi. You can board the ship from Hyannis Terminal, which is just 15 minutes from the Captain Farris House. Several departure times are available, but we recommend one of the earlier ferries so that you have more time to explore Nantucket!
Tips: There is limited parking for the Hyannis ferry at the terminal, so we recommend you park at the Lewis Bay Road Lot and take the free shuttle there. Also, keep in mind that the high-speed ferry is a popular option in the summertime, so be sure to make your reservations ahead of time!
Hy-Line Cruises
For another excellent option departing from Hyannis Terminal, consider Hy-Line Cruises. Their high-speed ferries to Nantucket from Cape Cod are available year-round, but with limited availability in the off-season. With Hy-Line Cruises, you can upgrade to Captain's View seating and enhance your experience. This option features comfortable chairs and better views from the second deck of the ship. Either way, you still end up in beautiful Nantucket!
Tip: Hy-Line Cruises often runs various specials, allowing you to save money on your trip!
Freedom Cruise Line
If you prefer to depart from Harwich Port, consider Freedom Cruise Line. During peak tourist season, they offer an alternative to the crowds and parking struggles of Hyannis Terminal. However, they have limited options for departure times, and close down in the offseason.
Tip: As long as you're only taking a day trip to Nantucket, you can enjoy free parking for Freedom Cruise Line!
What Are Some Fun Things to Do in Nantucket?
Hit the Beach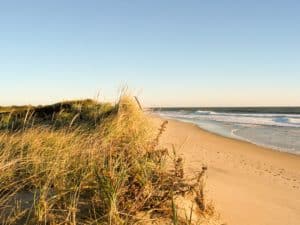 Nantucket may be a small island, but it's full of fantastic beaches! A few popular spots include Surfside Beach and Jetties Beach. For unbeatable views of the sunset before heading back to Cape Cod, add Madaket Beach to your Nantucket itinerary. Just be careful of the strong surf here, if you plan on swimming. View the full list of Nantucket beaches and decide which one suits you best.
Explore the Island
While you do have the option of bringing your car, it can be a hassle, and the fee runs $280 to $450 to transport your vehicle to the island. Save your money and put it toward a bike or moped rental in Nantucket! It's a much more intimate way to explore the area and enjoy the fresh air and surrounding natural beauty. There are several miles of bike paths throughout Nantucket. And, since they are separate from the roads, you never have to worry about cars racing past you during your adventures.
Tip: When you reach the center of town, consider hopping off your bike and walking it along the sidewalk. The uneven cobblestone, while beautiful, can make riding difficult.
Browse Local Boutiques
When you need a retreat from the sun, spend some time exploring the locally-owned shops on the island. Nantucket's Main Street is where you'll find a large selection of shops to browse. Take a look at this extensive Nantucket shopping guide for a list of clothing boutiques, specialty shops, jewelry stores, and more. For several years, Nantucket has also been a hub for the visual arts, and it shows. Be sure to check out the various art galleries nearby!
Experience History
Nantucket is home to many fantastic museums, historical sites, and lighthouses. A favorite among many of our guests, the Nantucket Whaling Museum contains the full skeleton of a 46-foot whale that was washed ashore decades ago. The building is filled with equally fascinating exhibits, giving insight into the 18th-century culture of whaling in New England. Other museums worth checking out include the Nantucket Shipwreck & Lifesaving Museum and the Lightship Basket Museum.
Savor Outstanding Cuisine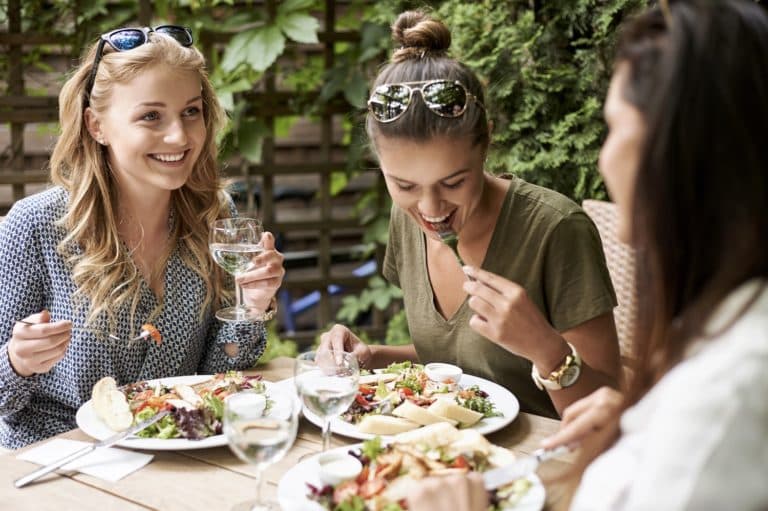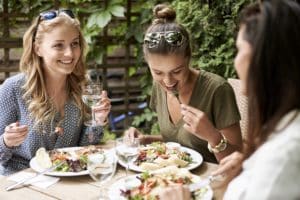 With all the fun things to do in Nantucket, you're sure to work up an appetite. Luckily, Nantucket has an impressive food scene. From cozy breakfast spots and juice bars to high-end dining, there's something for everyone in this picturesque town. Here are a few of the great places to eat in the area:
Center Street Bistro
Provisions
Corner Table
Millie's
Black Eyed Susan's
Something Natural
Cru
Celebrate at Local Events
If you plan your day trip right, you might be able to catch a fantastic festival in Nantucket! You can welcome the blossoming flowers of springtime at the Daffodil Festival, sample the local cuisine during Restaurant Week, and so much more. Take a look at the Nantucket calendar, and find the perfect event for you. You're sure to discover something worthwhile!
Return to the Captain Farris House and Unwind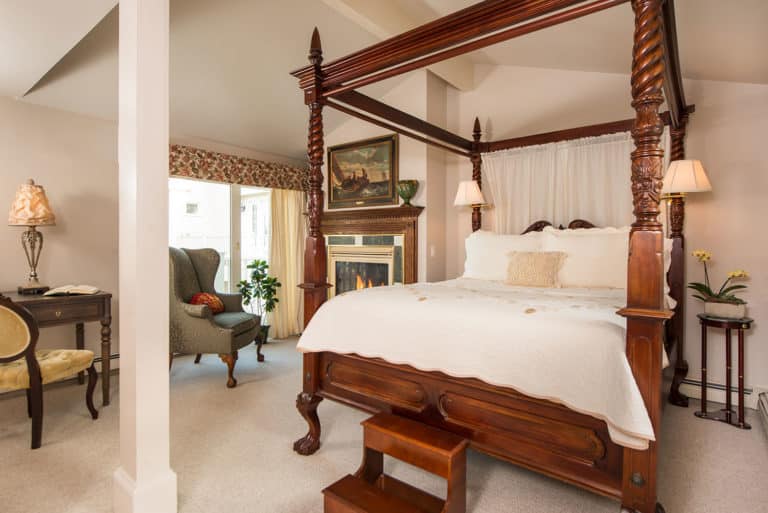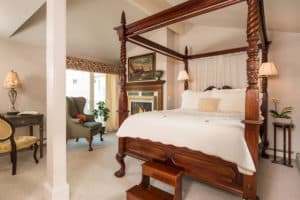 Complete your day trip to Nantucket from Cape Cod with a relaxing evening at the Captain Farris House. Our charming Yarmouth Inn features ten elegant rooms and suites. Enjoy delightful views, luxurious linens, private en-suite bathrooms, and more. If relaxing in a whirlpool tub sounds like your ideal evening, we have nine outstanding rooms for you! Plus, each morning of your stay, you can enjoy a delicious homemade breakfast in our dining room. Our seasonal breakfast entrees are always a highlight for guests!
Cape Cod is calling your name! Check our availability and book your stay today. We look forward to hosting you on the ultimate Cape Cod getaway!