Sitting back with a glass of wine, gazing out at beautiful scenery as you drink it all in — that's what daydreams are made of. Make it your reality at these Cape Cod wineries! The three options below combine their expert knowledge of wines with friendly, New England charm to craft exceptional experiences for visitors. Plus, they offer enchanting settings for your romantic adventures on the Cape. As you explore each one, make sure you check out more of our favorite attractions and things to do nearby.
Sip Wine and Savor the Experience at These Cape Cod Wineries
Without further ado, raise a glass and let the wine tastings begin! Incredible flavors and aromas await you at these Cape Cod wineries just minutes away from the Captain Farris House.
(Keep in mind that the hours at each location may vary depending on the season. Check their websites for the most up-to-date visiting hours.)
Truro Vineyards
Truro Vineyards has been bringing wine lovers together on Cape Cod since 2007. This family-run business will capture your heart and captivate your taste buds as soon as the bold flavors hit your tongue. They're the masters of maritime grape growing! Tours include a peek behind the curtain in their winery, state-of-the-art barrel room, and throughout acres of beauty in their vinifera vineyard. After indulging in their wines, try some hand-crafted rum and gin at their new distillery, South Hollow Spirits. It's Cape Cod's first distillery since the Prohibition era!
Wine Tastings: $10 per person, including five wines and a souvenir glass.
First Crush Winery
Combine a bachelor's degree in chemistry with over 30 years of experience with wines, and you get the expert mind behind the flavors at First Crush Winery. Frank D. Puzio partners with vineyards in northern California to import some of the country's finest grapes and produce award-winning bottles at his Harwich winery. Come and try them for yourself! This treasure of the industry is just 12 minutes away from our inn.
Wine Tastings: $10 per person to taste six wines and tour the winery.
Cape Cod Winery
Visit the Cape Cod Winery and discover the meaning of "La Bonne Vie." It's the name of the owners' boat, and also an experience they hope to share with you via their wines. It means "The Good Life!" Whether you prefer dry or fruity wines, this charming little spot in East Falmouth has what your taste buds crave.
Wine Tastings: $10 per person with a souvenir wine glass.
Uncork a Bottle of Pure Relaxation at the Captain Farris House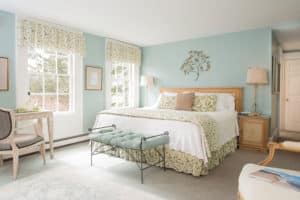 Complete the perfect wine weekend on Cape Cod by staying in the comfort of the Captain Farris House. Surrounded by beautiful gardens in South Yarmouth, MA, our historic bed and breakfast embodies the true meaning of romance. Step inside and discover a paradise of elegant furnishings, charming antiques, and luxurious rooms and suites. It's a beautiful place to relax with a bottle of wine from our local wineries and let the feeling of serenity wash over you.
Plus, we make it easy to find the perfect pairing for your wine getaway! At the click of a button, our variety of specials and packages enhance your stay for an experience you won't soon forget. If you're planning to visit Cape Cod with your special someone, make your time together extra special with our Sweet Romance, Couple Retreat, and Wine, Dine, and Dream Weekends packages! We handle all of the details so you can focus on creating lasting memories together.
Book your stay at the Captain Farris House and experience bliss on Cape Cod!