From an outside perspective, Cape Cod may appear to be one destination. However, the Cape is actually comprised of several distinctive towns each offering its own appeal and charming beaches. Connected by scenic routes and miles of seashore, the best Cape Cod towns are delightfully different. Learn more about the best beaches and top attractions of a few of the towns below.
Make the Most of Your Visit to the Best Cape Cod Towns & Beaches
Cape Cod is surrounded by many bodies of water – the Nantucket Sound, Cape Cod Bay, and 41 miles of the Atlantic Ocean known as the Cape Cod National Seashore, just to name a few. Along every stretch of the seashore, you'll find sandy beaches that connect to picturesque towns with much to offer. Whether you choose to spend a day in each town or a week in one town, your itinerary will be filled with stunning views, fabulous beaches, and fantastic attractions. Of the 15 towns on the Cape, these are our a few of our favorites:
Yarmouth
Yarmouth offers the best of all worlds. With access to freshwater ponds and saltwater beaches, you'll find endless opportunities to play, sunbathe, and enjoy time on the water. Just minutes from the Captain Farris House, Bass River Beach, also known as Smuggler's Beach, provides the perfect spot to relax on sandy seashores. Along with Bass River Beach, two other notable Nantucket Sound beaches include the popular Parkers River Beach and Seagull Beach, Yarmouth's largest saltwater beach.
Yarmouth also offers access to the Cape Cod Bay featuring the 860-foot Bass Hole Boardwalk at Gray's Beach which stretches over scenic salt marshes and offers amazing sunset views. Yarmouth provides a perfect starting point for day-trippers looking to explore Cape Cod!
When you're ready for a shady retreat in Yarmouth, sit back and relax in one of the town's many fabulous restaurants or head to the Cultural Center of Cape Cod for some of the best art and entertainment. Just a short walk from Captain Farris House, the Cultural Center features a number of fantastic exhibits and events worth checking out.
Sandwich
Cape Cod's oldest town, Sandwich is home to a well-known boardwalk that leads to the saltwater Town Neck Beach. A short walk to the beach will provide you with stunning views of calm waters and boats passing through the Cape Cod Canal. Another popular saltwater beach in Sandwich is Sandy Neck which is surrounded by 4,700 acres of maritime forests, marshes, and dunes.
If freshwater is more your style, visit Wakeby Lake or Snake Pond Beach. Don't be alarmed by the name – there are no snakes here! Instead, you'll find a popular swimming spot for families and beachgoers.
After a cool swim, take a walk or hike through one of Sandwich's six conservation areas or explore the Heritage Museum and Gardens. The town is also home to the Sandwich Glass Museum which explains how the glass industry impacted Cape Cod's development.
Chatham
Chatham is an upscale and charming seaside town located at the beginning of the Atlantic Seashore.  it's known for its beaches, including Lighthouse Beach near the landmark 19th-century Chatham Lighthouse, a shining piece of the Cape's seafaring history. Two of our favorite outdoor activities in town include spotting seals off the Chatham Fish pier while watching fishing boats pull up and deliver their catch of the day or taking a seal cruise to Monomoy Island, a National Wildlife Refuge.
After exploring the outdoors, experience Chatham's great shopping village featuring quaint locally-owned stores and lovely antique shops. Make sure to stop by the Chatham Candy Manor for hand-dipped chocolate treats and other delectable delights! If you're craving seafood, visit the Chatham Pier Fish Market which opens for the season in May, providing the town with some of the freshest fish and lobster.
Provincetown
Located at the northern tip of the Cape, Provincetown is a lively, eclectic, and artsy destination. Featuring a diverse community where anything goes, Provincetown is a popular place for shopping, entertainment, and nightlife. The main beach in town is Race Point Beach which offers miles of sand dunes, nature trails, and bike paths. One of the most fascinating ways to explore the Outer Cape is on a dune tour!
Provincetown offers the access point for one of Massachusetts favorite pastimes – whale watching! Experience these majestic creatures up close on a whale watching tour from April through October. You'll also experience the stunning natural beauty of Cape Cod as you cruise through nature preserves and along the National Shoreline.
Hyannis
Hyannis is a bustling city with plenty of character. You'll find much to do in this small town from shopping and dining to museums and Harbor Cruises. Spend the day relaxing at Veterans Beach, Craigville Beach, or Kalmus beach – one of the most famous Hyannis beaches known as a great spot for windsurfing!
Just a short distance from the sandy beaches, you can browse the stores and attractions along Main Street or visit the John F. Kennedy Library and Museum for a glimpse into the legacy of President Kennedy, his family and their deep connection to Cape Cod. Before visiting, be sure to check for any upcoming events at the Cape Cod Melody Tent – a popular music venue featuring world-class music and legendary performances! From Hyannis, you can also catch a ferry to the islands of Nantucket and Martha's Vineyard for a lovely day trip.
The Best Place to Stay on Cape Cod
If you're searching for where to stay on the Cape, look no further than the Captain Farris House. Located centrally in Yarmouth, our charming Inn provides convenient access to all the best Cape Cod towns and beaches!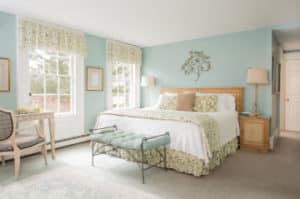 One of our most popular accommodations is the Bray's Retreat. This elegant room provides the perfect escape for couples looking for a romantic getaway. Enjoy plenty of sun-filled space, a comfortable king-sized bed with plush linens, stunning views overlooking the garden, and more. Wake up to a delicious, homemade breakfast before exploring another one of the best Cape Cod towns!
Check availability of all accommodations now and book your stay today. We can't wait to host you!