Located in the heart of Dennis, MA, the Cape Cod Museum of Art takes center stage on the 23-acre Cape Cod Center for the Arts campus. Founded in 1981 by a dedicated group of artists, educators, and community activists, their legacy is the focal point of art and culture on Cape Cod. Now in its 41st year of operation, this small but mighty museum strives to present a unique perspective of Cape Cod artists and imagery.
Inside and Out
Guests of the Captain Farris House rave about their visits to the museum. The building itself tips its hat to the typical Cape Cod style of architecture, meaning weathered gray shingles adorned with bright white trim. With seven galleries, a screening room for feature films, an outdoor sculpture garden, and a museum shop, spending time at this well-loved museum adds just the right amount of panache to any Cape Cod getaway.
Among the Collections
The museum features an impressive permanent collection of local and regional artists whose work was inspired by our region. However, the museum's curators often invite noted artists with a Cape Cod connection to exhibit their work throughout the year. For example, coming this fall and winter, you'll have an opportunity to view the art of Frank Anigbo and Richard Neal in an exhibit entitled Fragile. Also coming this season, the museum pays tribute to Boris Margo in an exhibit featuring his work from Ukraine to Provincetown. As such, the museum feels fresh and inviting on each and every visit.
Music and More
Throughout the year, the Cape Cod Museum of Art hosts several special events. Their Summer Sunday outdoor concerts feature local musicians performing under the tent in the sculpture garden. Oktoberfest is the highlight of the fall season. Sample 5 craft beers, taste the creations of local food vendors, and listen to a live Bavarian band.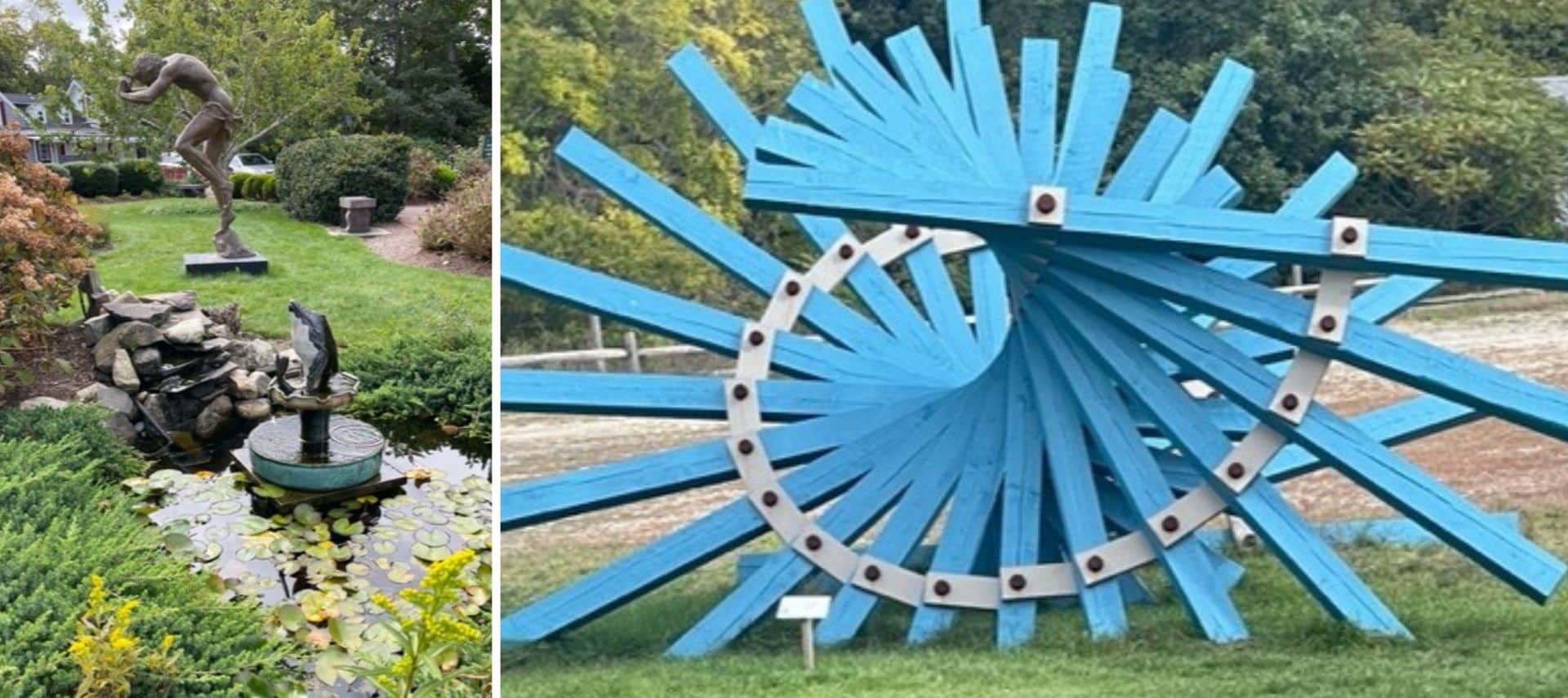 Art Education
In addition to the collections, the Cape Cod Museum of Art extends its reach to bring art education to the young and old. Several daytime multi-week courses and single evening talks by artists introduce participants to acrylic painting, ceramics, drawing, and more. Occasionally the screening room presents free films shining a light on a featured artist, such as the upcoming documentary "In the Light of Hopper," which brings to life the works of Edward Hopper.
Around Campus
Joining the Cape Cod Museum of Art on the Cape Cod Center for the Arts campus, the Cape Playhouse and the Cape Cinema also deserve your attention. The Cape Playhouse is known for bringing "Broadway to Cape Cod. It offers a summer theater series whose headliners have included many notable stars, such as the following:
Bette Davis and Humphrey Bogart,
Gregory Peck and Lana Turner,
Gertrude Lawrence and Ginger Rogers,
Tallulah Bankhead, Helen Hayes, and Julie Harris.
Bringing independent American and international films to Cape Cod since 1930, the Cape Cinema serves as the center of entertainment for anyone with a passion for cinema. The theater's ceiling is the work of illustrator Rockwell Kent, who created a vision of the heavens and constellations that captivates your attention as soon as you enter. In addition to films, the theater also presents simulcasts of the Metropolitan Opera and National Theatre and occasional live music performances.
Encore Bistro and Bar
To complete your visit to the Cape Cod Museum of Art, stop by Encore Bistro and Bar, the onsite restaurant that sits adjacent to the museum. Feast on local seafood, imaginative entrees, and creative and classic cocktails in this bright, airy café. It's the quintessential way to end a day filled with art and culture.
Cape Cod Museum of Art: 60 Hope Lane, Dennis, MA (508) 385-4477
Cape Cinema: 35 Hope Lane, Dennis, MA (508) 385-2503
Cape Playhouse: 820 Main St, Dennis, MA (508) 385-3838
Encore Bistro and Bar: 36 Hope Ln, Dennis, MA (508) 385-8500
Book Your Stay At The Captain Farris House
After you experience the Cape Cod Museum of Art, relax at The Captain Farris House. Our historic bed and breakfast features some of the finest antiques and exudes an inviting atmosphere. When looking for luxurious accommodation on Cape Cod, browse our selection of 10 guest rooms and pick the ideal one for your getaway.
To enhance your stay with us, consider booking The Captain's Sweet Romance Package! This tantalizing addition features a bottle of wine from a local vineyard or winery, chocolate-covered strawberries, silk rose petals lining the bed, and a guaranteed late checkout!
Updated October 2022