An area rich in culture with lively art and music scenes, Cape Cod features fantastic concert venues that provide unforgettable entertainment. At the Captain Farris House, we want you to experience the best of Cape Cod's culture including wonderful music at the Cape Cod Melody Tent. For over 60 years, the theatre has been providing world-class entertainment to Massachusetts visitors and locals alike. Below, we've provided a local guide for how to make the most of a visit to this fascinating music venue!
Catching a show at the Cape Cod Melody Tent is just one of many fabulous things to do in the area.
Enjoy a Memorable Experience at the Cape Cod Melody Tent
About the Cape Cod Melody Tent
The Cape Cod Melody Tent is owned and operated by a non-profit organization called South Shore Playhouse Associates. The organization is dedicated to supporting arts, culture, and education throughout Cape Cod. The theatre, located in Hyannis, MA, operates "in the round" meaning the audience is seated surrounding the stage. Cape Cod Melody Tent and its sister venue, South Shore Music Circus, are the only two tent theatres continuously-operated in this fashion in the United States.
Beginning in 1932 as a small summer theatre, the venue has developed into a popular destination that offers amazing theatrical and musical performances. It has undergone significant changes since its humble start. The modern theatre now features state-of-the-art lighting and sound equipment, a new stage, computerized technology systems, and more. Stadium seats replaced the previous canvas chairs and the seating chart was redesigned to increase capacity from 1,000 to 2,300 seats. However, the theatre still provides an intimate setting, with each seat placed within 50 feet of the stage.
Cape Cod Melody Tent Events
From performances by famous country artists and award-winning bands to Kidz Bop shows and productions of storybook classics, Cape Cod Melody Tent features some of the best entertainment on Cape Cod. The venue has a long history of hosting world-famous performers including ABBA, The Temptations and the Four Tops, Heart, Jake Owen, Chicago, A Flock of Seagulls, and more. Visit the theatre's Tickets and Events page to learn about upcoming shows including the 2018 schedule, children's shows, and more!
Unwind at the Captain Farris House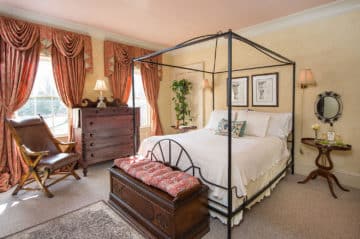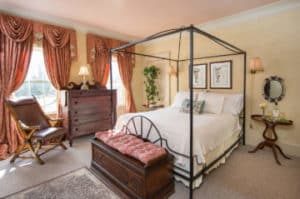 Located just a short drive from the Cape Cod Melody Tent, Captain Farris House provides the perfect home base for all your vacation adventures. Our house and gardens provide stunning views, cozy accommodations, and all the luxurious amenities necessary for an indulgent stay.
Stroll through our peaceful gardens, relax with tea and treats in our elegant parlor, or simply unwind in your well-appointed room featuring comfortable furniture, plush linens, and the finest bath amenities. Wake up the next morning feeling refreshed and restored and enjoy a full, delicious, seasonal breakfast.
We look forward to providing you with a peaceful and memorable getaway. Book your accommodations now to take advantage of our best offers. Also, be sure to take a look at our packages and indulgences for ways to make your stay extra special. We look forward to seeing you soon!