Whether you're planning a bachelorette party, a weekend with friends, a mother and daughter trip, or simply a relaxing escape, Cape Cod is the best spot for a girls weekend. At the Captain Farris House, we've created the perfect, customizable Cape Cod girls weekend itinerary. Savor delicious New England cuisine, sunbathe on the beach, explore the coastal towns, experience the lively nightlife, pamper yourselves at the spa – the possibilities are endless! Read below to learn how to plan the ideal girls trip on Cape Cod.
Book your Girls Just Wanna Have Fun Getaway Package and then plan the perfect itinerary below!
Cape Cod Girls Weekend Itinerary
Where to Stay
Book your stay at the Captain Farris House! Reserve one room or the entire inn. Our well-appointed accommodations include luxurious linens, fluffy towels, charming decorations, comfortable furniture, and fine bath amenities. Once you've made room arrangements, be sure to book your Girls Just Wanna Have Fun Package which includes welcome drinks, customizable add-ons, help with trip planning, and more. Continue reading for your perfect Cape Cod girls weekend or bachelorette itinerary.
Day One
Upon arrival at the Captain Farris House, you'll be greeted with champagne and a fruit and cheese platter. Drop off your things, relax, and leave your responsibilities behind.
Head out for a delicious dinner at one of the area's many outstanding restaurants. Cape Cod is a food lover's paradise with over 50 locally-owned restaurants. Just a short walk away, you'll find the Riverway Lobster House which offers the best seafood, burgers, and salad. For award-winning oysters and a great drink menu, head to The Oyster Company Raw Bar and Grill. For more wonderful dining options, visit our blog on 15 of the most exceptional restaurants on Cape Cod.
After a delightful meal, enjoy a fun night out, an evening at the First Crush Winery, or a cozy movie night at our B&B!
Day Two
Start the day with a sumptuous breakfast in our elegant dining room. Enjoy freshly-brewed coffee, homemade muffins, and seasonal made-to-order entrées. Start preparing for the exciting day ahead!
There are so many ways to spend your time on Cape Cod, and your day's plans are completely up to you. Celebrate a bachelorette party in Martha's Vineyard, sign up for a cooking class, or spend the afternoon relaxing on one of Cape Cod's best beaches. Take an excursion to Provincetown for whale-watching followed by exploring the town's galleries, bars, and restaurants. We will act as your concierge and arrange everything during your stay!
After concluding whatever adventures the day brings, make your way back to our B&B for another relaxing evening.
Day Three
After enjoying a delicious breakfast, experience another wonderful Cape Cod day. Pamper yourselves with luxurious spa treatments, stroll through the peaceful gardens at our B&B, head to town for some shopping, or relax on the beach. Enjoy the company of loved ones and leave with the fondest memories.
Book Your Trip!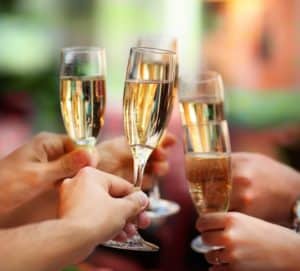 Check availability of all accommodations now and start planning the best Cape Cod girls weekend. Take a look at the special indulgences you can add to your trip, and don't forget to include the Girls Just Wanna Have Fun Package! Here's a summary of what the package includes:
Champagne & snacks upon arrival
Gourmet breakfast each morning
Customizable add-ons – spa treatments, culinary classes, daily excursions
Afternoon tea & treats
Help with trip planning!
We look forward to hosting you and your girls!