Among the scenic beaches and quaint villages of Cape Cod are a number of local farms frequented by visitors and locals alike. In these Cape Cod farms, you'll find fragrant fields of lavender, fresh produce, friendly animals, and warm and welcoming families. As locals, one of our favorite things to do is to spend a day exploring the fabulous, local farms below!
Explore These 3 Cape Cod Farms
Cape Cod Lavender Farm
One of our favorite local farms that will delight your senses is the Cape Cod Lavender Farm in Harwich, MA. This family-owned business boasts more than 7,000 plants on 12 peaceful acres of land. During your visit, explore the grounds while taking in the relaxing fragrance of lavender, enjoy idyllic landscape views, and browse a selection of luxurious home and body products!
Local Tip – Visit the Lavender Farm between mid-June and mid-July to experience the lavender fields during peak color and bloom!
Crow Farm
Founded in 1916, the Crow Farm has been offering a variety of homegrown produce, local honey, jams and jellies, flowers, baked goodies, and more for over 100 years. One of the only Cape Cod farms to grow their own apples, Crow Farm is the perfect place to grab a juicy piece of fruit and other goodies! Committed to providing the freshest produce to the Cape Cod Community, Crow Farm fruits and vegetables can also be found at local farmers markets around town.
The family-owned farm is located along the scenic Old Kings Highway in Sandwich, MA, and is open seven days a week.
Taylor-Bray Farm
One of Cape Cod's hidden gems, Taylor-Bray Farm got its start in the late 18th century when the Taylor Farmhouse was built. Today, the farm is home to a number of friendly animals, hayrides, seasonal pumpkin patches and Christmas Trees, and more. One of the most popular attractions at the farm is the Annual Sheep Festival which takes place in June. Enjoy sheep herding, a farmhouse tour, refreshments, a silent auction, and more!
Taylor-Bray Farm is located in Yarmouth, MA, just a 10-minute drive from the Captain Farris House.
Unwind at the Captain Farris House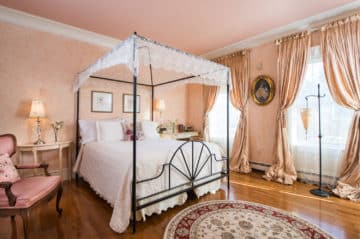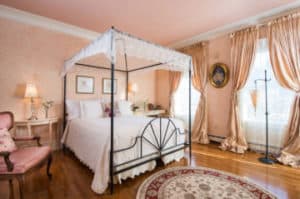 After exploring the wonderful Cape Cod farms mentioned above, head back to the Captain Farris House to unwind. Our cozy accommodations are an excellent place to rest and relax. Enjoy sunny, spacious rooms, luxurious amenities, and a delicious breakfast each morning.
One of our favorite rooms is the Captain's Quarters. This inviting, romantic retreat offers an antique canopy bed, stunning garden views, plush linens, and a two-person whirlpool tub. This is the escape you've dreamed about!
Check availability of all our rooms now, because you really can't go wrong with any accommodation at the Captain Farris House. We look forward to hosting you!