All aboard the Cape Cod Dinner Train for one of the most fabulous and unique dining experiences in the area! Dine in luxury as you relax to the rhythm of the railroad and take in picturesque views of the surrounding Cape Cod villages. If you're interested in a truly unforgettable meal, hop on the dinner train on your next visit to Cape Cod.
The Cape Cod Dinner Train Awaits!
Dinner Train Details
The Cape Cod Central Railroad offers a remarkable culinary journey complete with a specially prepared five-course meal, scenic views, romantic music, and soft candlelight. Choose from three classes of service designed to suit all types of guests. The First Class and Diamond Class train rides include seating at tables for four. If you are a party of two, you may be seated with other guests. The Platinum Class train ride includes a private table in a vintage club car and access to the train's bar and lounge. All rides are approximately three hours and feature five courses, coffee, tea, and water. Alcoholic beverages are available for purchase on board.
The Menu
As you enjoy a luxurious train ride through the magnificent scenery of Cape Cod, savor a delicious local menu of seasonally-inspired dishes. Choose from a selection of beef, chicken, and seafood entrees served in an elegant space with white table linens that reflect tradition rail style. View current menus online, which change according to seasonal offerings.
Reserve Today!
A reservation is required to book the Cape Cod Dinner Train, and we recommend booking early! To reserve your space, call 888-797-7245 or visit the Dinner Train website for tickets.
Complete Your Stay at the Captain Farris House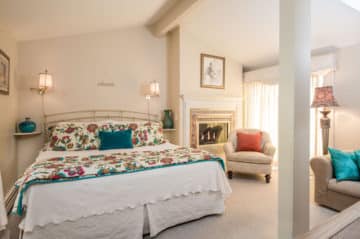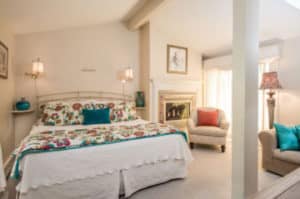 After your Cape Cod Dinner Train experience, make your way back to the Captain Farris House to unwind. Located just 15 minutes from the Cape Cod Central Railroad, our cozy B&B is the perfect place to continue your evening. Enjoy spacious rooms, comfortable furnishings, and plenty of thoughtful touches that make your stay extra special. Wake up slowly with a delicious, homemade breakfast before enjoying another wonderful Cape Cod day.
Although you can't go wrong with any our rooms at the Captain Farris House, Russell's Hideaway is one of our favorites. As you step upstairs, you'll find your special hideaway to relax and enjoy your time on the Cape. Recently updated with a Mahogany sleigh bed, you can sleep late and be woken by the scrumptious aromas coming from the kitchen. Return from a day touring the Cape to sit outside on the balcony while overlooking the sunset. This is the ultimate relaxing retreat!
Check the availability of our guest rooms now and book your stay today! We look forward to hosting you on your next Cape Cod getaway.