If you're looking for the perfect activity on Cape Cod, grab your sweetheart or a friend and attend a cooking class! Below, we've provided a list of the best Cape Cod cooking classes that go far beyond just teaching you a recipe. The local chefs and foodies who teach them are passionate about getting you excited to cook. You'll prepare and enjoy great food and learn expert cooking techniques to use back home in your own kitchen. Plus, a cooking class makes a wonderful date night activity or a fun way to spend time with friends.
Here Are the Best Cape Cod Cooking Classes
1. Cultural Center of Cape Cod
From Mexican street food to French comfort food, the Cultural Center of Cape Cod offers a variety of cooking classes led by local chef Joseph Cizynski and foodie Kim Rumberger. Learn to make homemade corn tortillas while sipping sangria, or take an imaginary trip to Italy while sampling Sicilian wine and cuisine. The Cultural Center of Cape Cod cooking classes fill up quickly, so be sure to sign up early!
For younger students and aspiring chefs, the Cultural Center also offers kids cooking camp on Cape Cod. The camp is three days long and gives kids the chance to prepare a variety of delicious foods with expert supervision. Little chefs learn to make everything from open-faced grilled cheese sandwiches to homemade chicken soup.
Aside from cooking classes, the Cultural Center of Cape Cod offers plenty more art and entertainment worth exploring!
2.  Two Goats School of Cheesemaking
Two Goats Schooll of Cheesemaking in Eastham, MA, offers "learn to make cheese" classes and workshops year-round If you enjoy a good bottle of wine and a great wheel of brie, you will enjoy learning about how the cheese is made from a artisan cheesemaker and cheese educator, Sadie Hill,  based on Cape Cod.
3. The Pleasing Plate
The Pleasing Plate in Sandwich, MA, offers a unique style of cooking classes. Before the class, you can talk with their team to decide what you want to prepare! So if you're looking to perfect your lasagna recipe or learn to make a delicious cheesecake, the Pleasing Plate is the place for you. In the past, they've helped students make homemade pasta, chicken piccata, and tiramisu! The options are endless.
4. Highfield Hall
To delight your taste buds and hone your cooking skills, attend one of the Highfield Hall cooking classes. The class takes place in the kitchen at Highfield Hall and Gardens, located in Falmouth, Massachusetts. Their spring cooking class calendar is coming soon and it's something to get excited about. They are offering a Meet the Chef series, International series, and a Farm-to-Table series. Be sure to check the website if you're interested in attending one of these events!
Stay at our Charming Bed and Breakfast
During your Cape Cod vacation, we'd love to host you at the Captain Farris House. Our cozy accommodations are an excellent place to unwind and relax. Enjoy sunny, spacious rooms, indulgent amenities, and a delicious breakfast each morning.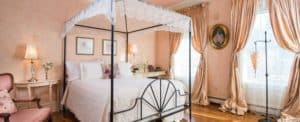 For the ultimate luxurious experience, book your stay in one of our whirlpool rooms. One of our favorites is the Captain's Quarters. This inviting, romantic retreat offers an antique canopy bed, stunning garden views, plush linens, and a two-person whirlpool tub.
Check availability of all our rooms now, because you really can't go wrong with any accommodation at the Captain Farris House. We look forward to having you!