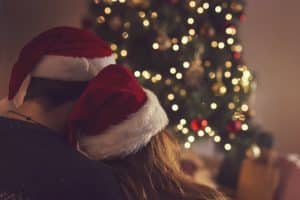 Cape Cod Christmas events are some of the most delightful ways to say "Seasons Greetings" this year. Our beautiful destination offers a variety of celebrations that will warm your heart and fill you with holiday cheer. From enchanting train rides to magnificent lighting displays, there's no shortage of captivating extravaganzas to enjoy! We invite you to visit the Cape this holiday season and see what makes it such a remarkable time of year.
Get in the Holiday Spirit With These Cape Cod Christmas Events
Christmas time on Cape Cod is full of wonder and excitement. If you wish to experience it to the fullest, take your spot among the merry attendees at these local festivals. They're all just a short drive from the Captain Farris House!
Annual Lighting of the Pilgrim Monument
A fantastic way to welcome the holiday season is with the Lighting of the Provincetown Pilgrim Monument. This historical site on Cape Cod marks the arrival of the Pilgrims to the New World in 1620, and it comes to life with bright lights each November. Since it's one of the most enchanting holiday traditions on the Cape, we recommend arriving early to get a good view!
The Lobster Pot Tree Lighting
The Lobster Pot Tree Lighting typically occurs on the weekend following Thanksgiving and illuminates Lopes Square with lights strung in lobster pots (traps) in the shape of a Christmas tree. This one-of-a-kind holiday display features over 100 lobster pots and stretches over two stories high! Grab a cup of hot chocolate and join the community as we count down to 5:30 p.m. when the evening sky in Provincetown gets a bit brighter.
Note: The Captain Farris House will be closed during the lightings of the Lobster Pot Tree and the Pilgrim Monument this year, but you're still welcome to check them out and enjoy these wonderful Cape Cod traditions!
Gardens Aglow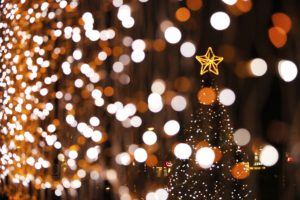 Missing out on a holiday event is disappointing. Luckily, the Heritage Museum & Gardens hosts their Gardens Aglow celebration for several weekends this season! Stroll through the gardens in the evening and surround yourself with over 9 miles of twinkling lights. Other outdoor activities include viewing a restored Model T, carousel rides, and marshmallow roasting. After a lovely walk through the grounds, make your way inside to check out a model train display and delight in live performances. Pick a weekend and check it out this year!
The Train to Christmas Town
All aboard the Train to Christmas Town! This holiday attraction immerses you in the whimsical tale of a girl who embarks on a magical journey to Christmas Town. It takes about an hour to reach your destination, and you're welcome to enjoy hot cocoa and cookies along the way. Bring your sense of childlike wonder and imagination with you on this animated trip!
A Seaside Christmas in Orleans
From the end of November through December, you're welcome to visit the nearby town of Orleans and take advantage of several holiday events in the area. A Seaside Christmas in Orleans brings the community together to enjoy shopping discounts, restaurant specials, holiday caroling, and more. Feel free to hop on a trolley and explore the local stores during the Christmas Shopping Stroll!

Taylor-Bray Farm Holiday Festival
The Taylor-Bray Farm is already a great place to visit, and it gets even better during the first weekend of December. Make plans to attend their Holiday Festival so you can enjoy hayrides, see the animals, and take your pick from homemade baked goods. You can even purchase handmade crafts as souvenirs or unique gifts for friends and family!
Yarmouth Port Christmas Stroll
Bring comfortable walking shoes, because there are several holiday strolls to enjoy throughout the Cape! The Yarmouth Port Christmas Stroll is an excellent option, allowing you to explore the festivities along Route 6A. There are magic shows, carolers, raffles, and a tree lighting ceremony in the evening. It all takes place during the first Sunday in December, and admission is free!
Holiday Cookie Stroll and Open House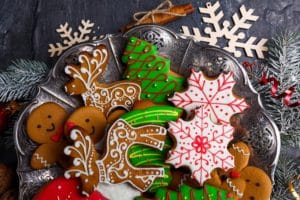 Bass River in South Yarmouth serves as the backdrop for this charming Cape Cod event in early December. The Annual Holiday Cookie Stroll lets you explore the area and collect freshly baked cookies at participating stops. You're also welcome to visit the South Yarmouth Library and enjoy a cup of hot cider during their open house! At the end of the day, you'll leave with a full bag of delicious treats and plenty of lasting memories.
Tickets go on sale in mid-November at South Yarmouth Library, Adrene Jewelers, Bass River Shoe and Leather Repair, and Platinum Auto Service. Inside your ticket booklet, you'll find a map as well as cookie recipes so you can recreate them at your next holiday gathering!
Enjoy Elegant Lodging at the Captain Farris House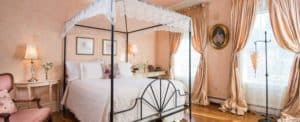 After attending one of these Cape Cod Christmas events, make your way to the comfort of our stunning bed and breakfast. Here at the Captain Farris House, we offer gourmet breakfast dishes, a selection of beautifully appointed accommodations, and a collection of indulgent packages. When you combine this with our friendly service, you're sure to feel right at home during your visit to Cape Cod.
Book your stay and get one step closer to the warm, welcoming atmosphere of the Captain Farris House. We look forward to welcoming you to the Cape!
Please keep in mind that we have limited availability during the holiday season. The Captain Farris House will be closed from November 19 – 28, then remain open from Thursdays through Sundays until December 17. Afterward, we will temporarily close as we prepare for another excellent spring/summer season!