Close your eyes and imagine white sandy beaches, gently crashing waves, and breezy sea air. That's exactly what you'll experience on your next vacation to Cape Cod! Now, before you book your plane ticket, discover the best of Cape Cod's beaches below. How do you pack beach time, sightseeing, and delicious meals all into one trip? Many of our guests choose to take day-long excursions to visit a few beaches, explore nearby shops, restaurants, and attractions, and then unwind at our B&B. The Cape Cod beaches guide below helps you do just that! Over the years, our guests have continually mentioned the beaches below as some of their favorites to visit.
15 of the Best Cape Cod Beaches
Did you know your brain can actually change during a trip to the beach? Science has shown that a seaside vacation can help bring you clarity and joy. On Cape Cod, you'll find not only some of the country's best beaches but also an abundance of activities, restaurants, and shops surrounding each of them. Read below to discover the best sandy shores and download our Vacation Guide above to find out what to do afterward!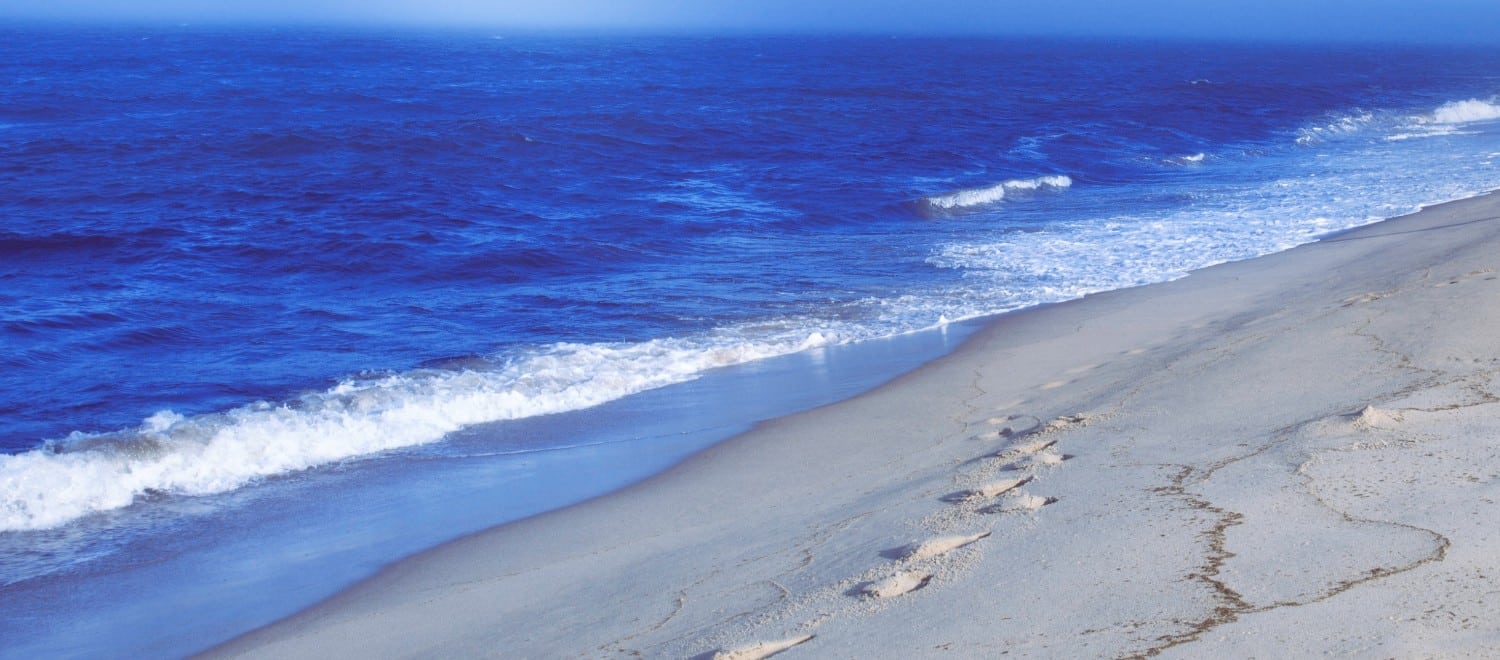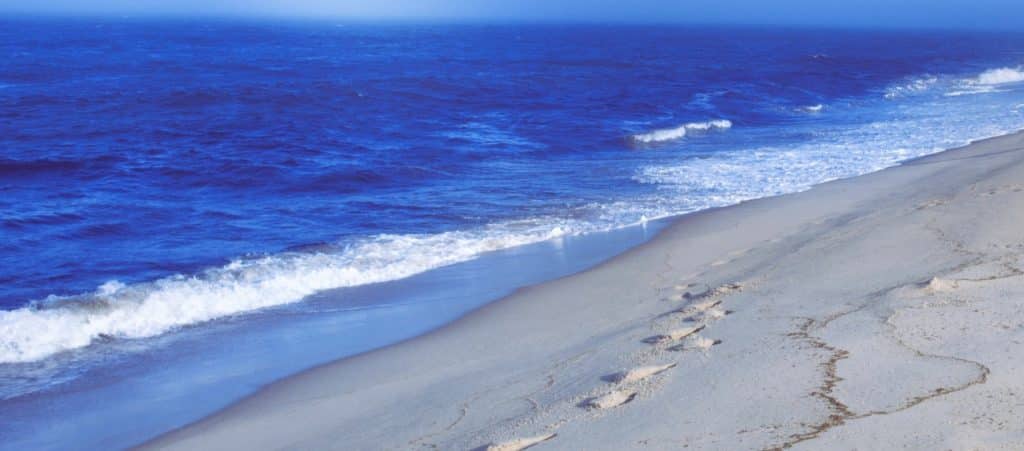 Nantucket Sound Beaches
Bordering the south side of Cape Cod, Nantucket Sound beaches are characterized by warm waters, tranquil coves, and gentle waves. Lay down your towel and relax seaside or launch a kayak from the shore. The beaches of Nantucket Sound are great for all ages!
Englewood Beach
199 Berry Avenue
West Yarmouth, MA
The scenic Englewood Beach has the most splendid views of Lewis Bay. After parking in a small lot, find the perfect sandy spot to read a book and watch boats take off from the harbor. This charming beach is a great place to spend some time relaxing and collecting seashells. Depending on the time of year, you can also take a refreshing dip in the cool water!
Amenities: restrooms, boat launch and harbor, small parking lot, playground
Seagull Beach
Seagull Road
West Yarmouth, MA
If you want space to relax and unwind, spend your day at Seagull Beach. You'll be delighted by the peaceful nature of this coastline. In fact, it's the largest of the Yarmouth, MA, beaches and features several amenities including food concessions, a large parking lot, and a spacious bathhouse. Seagull Beach is a great place to watch boats pass by in the Nantucket Sound!
Amenities: ample parking, bike rack, boardwalk, restrooms, showers, lifeguards, handicap chairs
Parkers River Beach
151-179 South Shore Drive
South Yarmouth, MA
One of the most popular beaches in Yarmouth, MA, Parkers River Beach comprises a scenic stretch of coastline with panoramic views of the Nantucket Sound. This sandy shoreline is not only adorned with picturesque views of the Sound but also a plethora of amenities, including a gazebo, bike racks, and jetties for fishing. Before heading to this beach, be sure to have cash on hand to purchase a daily pass.
Amenities: ample parking, bike rack, picnic area, showers, restrooms, lifeguards, boardwalk, food concessions (closed in the off season)
Bass River Beach
220 South Shore Drive
South Yarmouth, MA
Also known as Smugglers Beach, this secluded retreat provides stunning views of the Nantucket Sound. Spend your time on Bass River Beach by casting a line from the fishing deck or relaxing oceanside in your beach chair. Depending on the time year, you may even see whales breaking the water's surface! If you get hungry, there is a small food shack offering burgers, sandwiches, ice cream, and other bites. (Note – the snack bar and lifeguard stations are closed on the off season!) You can easily access Bass River Beach from a parking lot off of South Street, which is just a five-minute drive from the Captain Farris House.
Amenities: ample parking, fishing pier, snack bar (closed in the off season), lifeguards, restrooms, boardwalk, showers
West Dennis Beach
West Dennis Beach Road
Dennis, MA
Spanning over one mile of shoreline, West Dennis Beach is a spacious, sandy paradise great for windsurfing, kite flying, and long walks on the beach. One of the greatest appeals of West Dennis Beach is that there's plenty of room to stretch out and the beach never gets too crowded. The parking lot is large and close to the beach, so you won't have to walk far with your beach gear!
Lighthouse Beach
30 Main Street
Chatham, MA
Located in front of the Chatham Lighthouse toward the eastern end of the Nantucket Sound, Lighthouse Beach features a vast stretch of soft, sandy shoreline that's perfect for an afternoon stroll. As you walk along the beach, you might see a few seals in the distance, relaxing on the sandbar as they bask in the sun. The parking spots across from the beach are free, but they are limited to 30-minute visits before 5:00 p.m. We recommend visiting at night, as the lighthouse views are spectacular!
Amenities: restrooms, limited parking, bike rack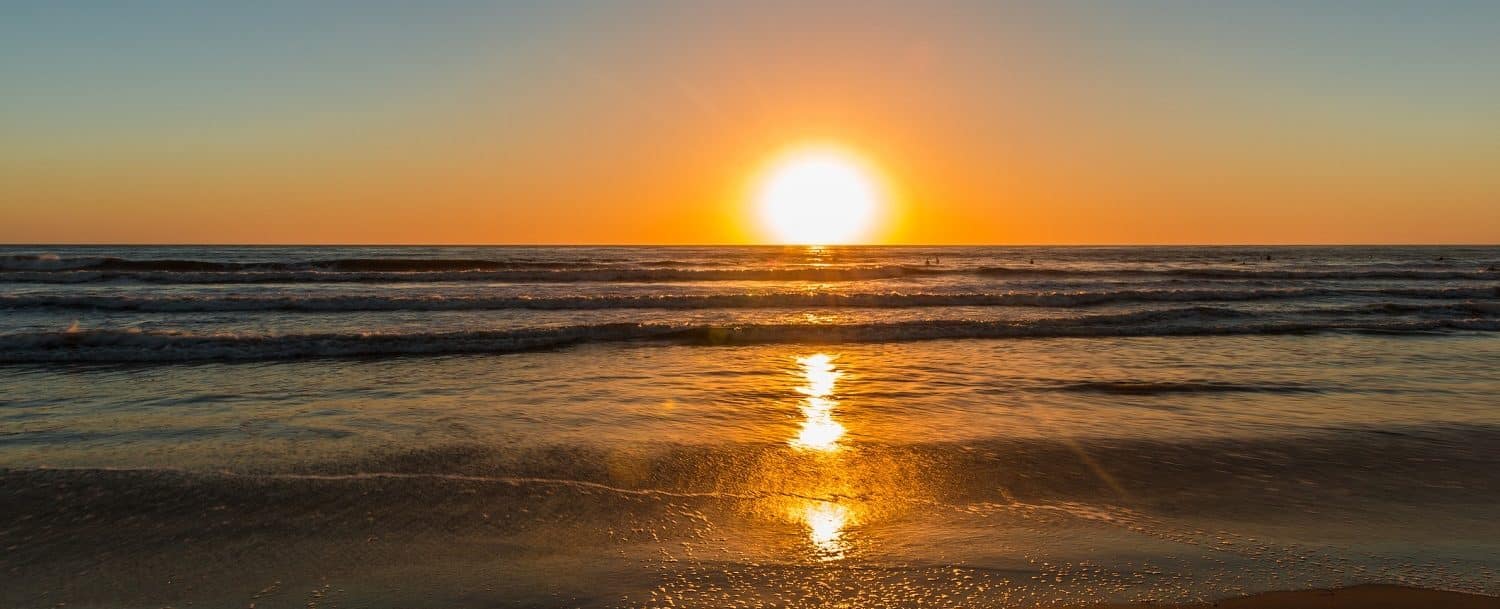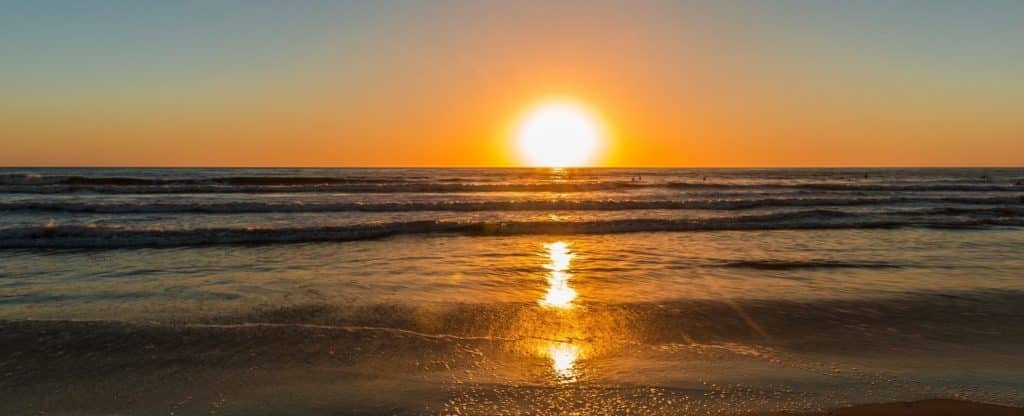 Cape Cod Bay Beaches
Surrounding Cape Cod's northern side, Cape Cod Bay is characterized by clear, calm waters. The beaches on Cape Cod Bay are favored by many as they tend to be smooth and broad with a mild surf that's great for swimming. During low tide, you can find hundreds of yards of tidal flats perfect for long walks on the beach. Although the calm waters and smooth sand might draw you in, the spectacular sunsets over Cape Cod Bay beaches will have you never wanting to leave.
Note: When the tide comes back in, it happens very quickly! We recommend taking a look at a tide chart if you plan to head out onto the sand flats.
Sandy Neck Beach
Sandy Neck Road
Sandwich, MA
A pristine beach with exposed sand flats at low tide, Sandy Neck Beach is a Cape Cod Bay treasure. It's a beautiful spot for bird watching, kayaking, and exploring the surrounding trails through maritime forests, marshes, and dunes. You can walk for miles along Sandy Neck Beach, but be sure to bring your shoes as the beach has many rocks. For a fee, you can bring your car onto the beach.
Amenities: ample parking, food concessions (closed in the off season), restrooms, showers, lifeguards
Gray's Beach (Bass Hole)
Center Street
Yarmouth, MA
The secluded, uncrowded Gray's Beach is the perfect way to spend the day on Cape Cod Bay. This stretch of sand has incredible views of the quiet marshland and has a large picnic area. After you park in the nearby lot, you'll have a short walk over a boardwalk that extends over the beautiful saltwater marsh.
Amenities: ample parking, restrooms, boardwalk, picnic area, lifeguards
Mayflower Beach
Dunes Road
Dennis, MA
Neighboring Bayview Beach, Mayflower Beach is popular among all ages. From the parking lot, you'll cross over sand dunes via a boardwalk that connects to the beach. Although it's a popular spot for locals and visitors alike, Mayflower Beach maintains a calm and peaceful atmosphere. As with other Cape Cod Bay beaches, low tide reveals many tidal flats and shallow pools.
Amenities: restrooms, showers, boardwalk, picnic area, handicap chairs, food concessions (closed in the off season), lifeguards
Bayview Beach
Bayview Road
Dennis, MA
Bayview Beach is located on the border of Yarmouth and Hyannis and is a 14-minute drive from the Captain Farris House. You'll find a small parking lot that when you get there, and it's just a short walk from the beach. Wherever you decide to set up your beach chair, you're sure to see small ferries, fishing boats, and luxurious yachts cruising through the open harbor. If you are in town for the Fourth of July, Bayview Beach is the best spot to see the annual fireworks event.
Amenities: restrooms, lifeguards, boardwalk
Breakwater Beach
Breakwater Road
Brewster, MA
Breakwater Beach is popular among locals for its peaceful waters, softly sloping dunes, and serene atmosphere. If you stick around for low tide, you can walk over miles of sand flats and tidepools in search of pretty seashells and sea critters that live where the ocean meets the shore. In addition to soft, white sand and impressive tide flats, Breakwater Beach has a large parking lot and sees frequent visits from an ice cream truck.
Amenities: ample parking, portable toilets, bike rack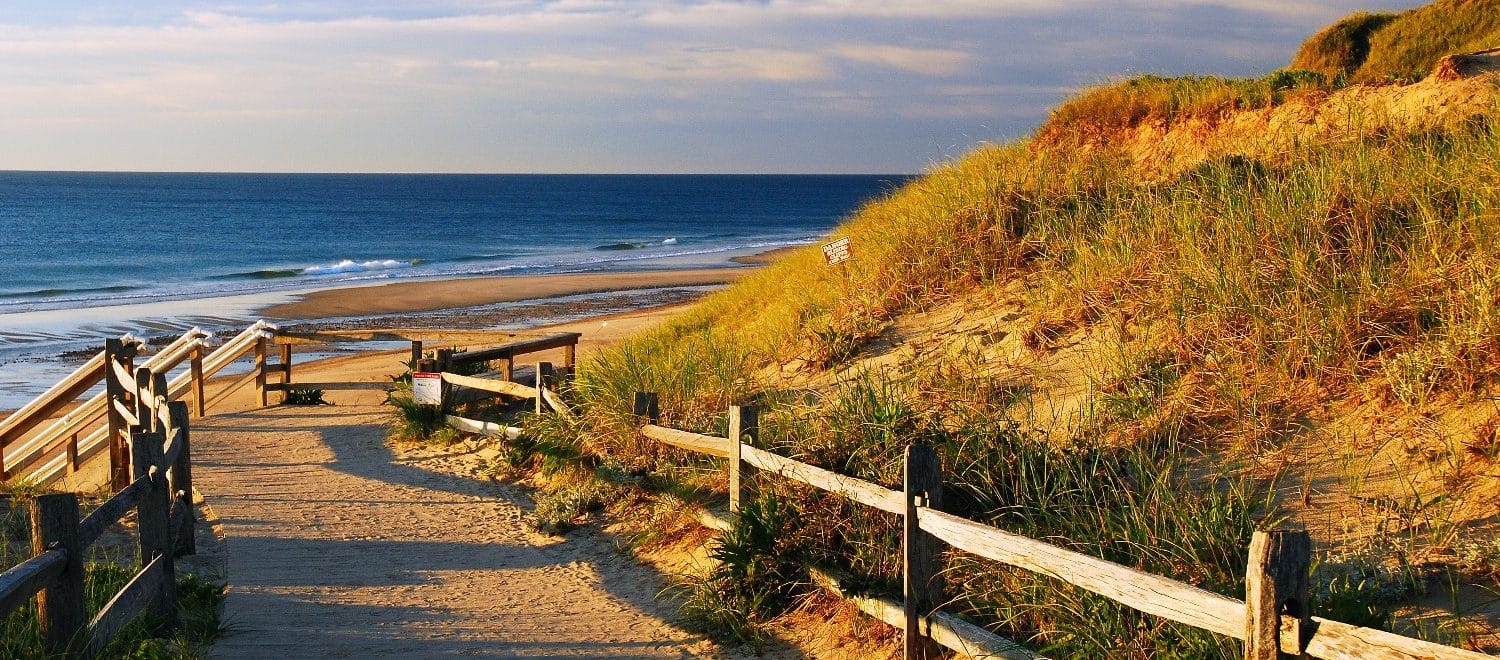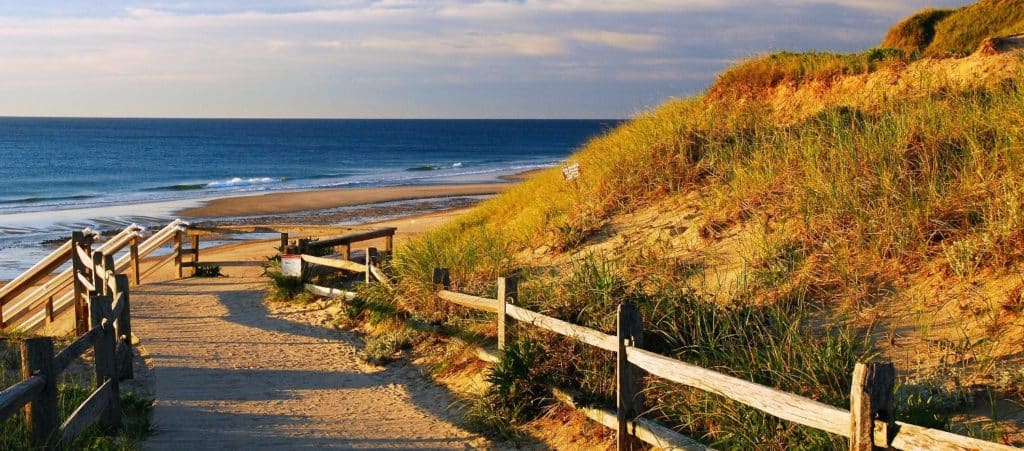 National Seashore Beaches
Stretching for 40 scenic miles along the eastern end of Cape Cod is the Cape Cod National Seashore. Characterized by colder waters, remarkable shoreline, and historical sites, the National Seashore offers endless opportunities for nature lovers and beachgoers. Take a stroll along the soft sand and listen to the waves crash ashore, birds fly overhead, and the whistling winds. You might even catch a glimpse of seals peeking their heads out of the water!
Nauset Beach
250 Beach Road
Orleans, MA
Nauset Beach is a particularly popular spot for visitors, and for good reasons! This 10-mile long beach features a variety of amenities, plenty of space for relaxation, and endless options for day trippers. There are some excellent fishing spots here, making it a paradise for anglers looking to reel in some trophy catches. When hunger strikes, you can head over to the snack stand for some tasty beachside meals. At the end of the day, be sure to grab your camera and snap some photos as the sunset lights up the sky in warm colors!
Amenities: restrooms, handicap access, boardwalks, snack bar (closed in the off season), off-road vehicle trails, bike rack
Marconi Beach
Marconi Beach Road
Wellfleet, MA
Journey a little further to the north, and you can reach Marconi Beach. If you're looking to avoid some of the crowds, this can be an excellent option for a peaceful escape. Here, you can find large sand dunes and plenty of breathtaking vistas. After relaxing on the beach, you can check out the site of the Marconi Wireless Station and stand where the first wireless communication between the USA and Europe took place! There's even an observation deck offering panoramic views of the Outer Cape. If you want to enjoy a retreat in the shade, follow the Atlantic White Cedar Swamp Trail for a serene walk through the forest!
Amenities: restrooms, picnic area, parking lot, lifeguards
Race Point Beach
Race Point Road
Provincetown, MA
At the tip of the Cape is the beautiful Race Point Beach. It's well worth adding this magnificent destination to your day trip itinerary! The strong sun and cool breezes make it a perfect spot to relax on a warm day. Keep your eye on the coast to see seals playing in the water and boats sailing in the distance. For a scenic adventure, hop on your bike and cruise down the bike trail past dunes and ponds. You're also welcome to take a walk over to the Race Point Lighthouse and check out this extraordinary landmark dating back to the early 1800s!
Amenities: restrooms, changing rooms, bike trail
Cahoon Hollow Beach
Cahoon Hollow Road
Wellfleet, MA
There is a steep dune path down to Cahoon Hollow Beach, but once you reach the shoreline, you'll realize what makes it such a popular spot. This vast stretch of sand and shimmering water attracts locals, visitors, and the occasional seals! After sunbathing or taking a scenic stroll, you can head over to the beachside bar, the Wellfleet Beachcomber, for a refreshing beverage or snack. We recommend getting there early to get a good spot!
Amenities: lifeguards, restrooms, food, bar
Plan out Your Adventure With Our Beach Map!
Stay at One of Cape Cod's Best B&Bs
When you stay with us at the Captain Farris House, we'll provide you with complimentary beach towels and chairs for your day at the beach! After exploring the best beaches on Cape Cod, you'll be treated to a warm welcome back at our B&B. Centrally located on the Cape, our charming inn offers easy access to all the beaches and attractions above. Plus, our cozy atmosphere and relaxing amenities will take you back to the comforts of home.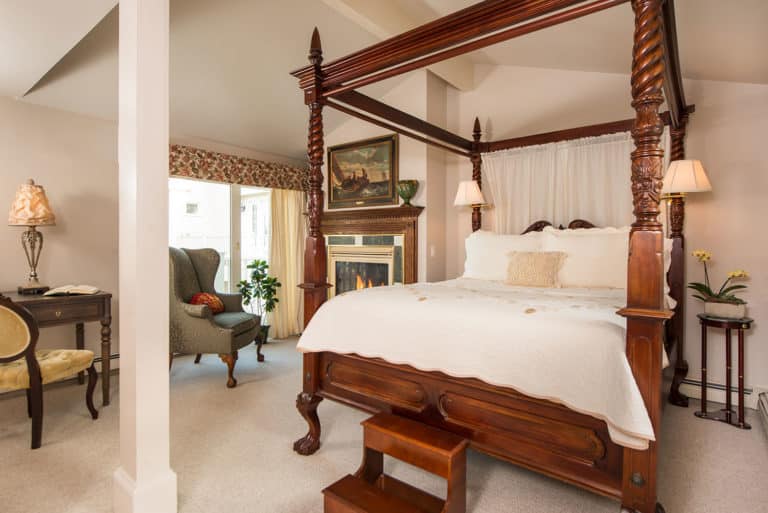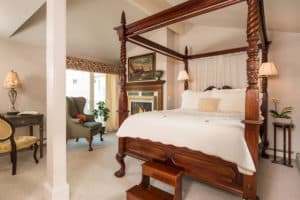 We invite you to browse our delightful collection of guest rooms and choose the one that fits your vacation. You'll find that our guest rooms are the perfect place to freshen up after a long day of exploring before heading out for dinner in town. Included in your stay is a delicious, homemade breakfast each morning and complimentary tea and goodies each afternoon! When you're not relaxing in your guest room, spend time in our lovely parlor or strolling through our beautiful, manicured gardens. You'll leave the Captain Farris House feeling like family!
Ready to plan your next Cape Cod trip? Check the availability of all our accommodations and book your stay today! We look forward to hearing all about your Cape Cod adventures.